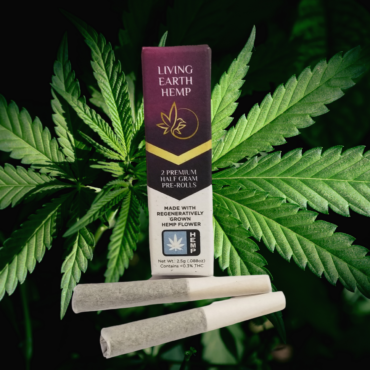 Product Description
Half Gram Pre-Rolls:  Eco-friendly and Eco-smart
Made with Living Earth Hemp premium flower, our  "Half Gram" weight may vary from .50-.60 grams of flower. Our pre-rolls are rolled in FSC certified organic hemp cones sustainably sourced and environmentally friendly.  Unlike other manufacturers, Living Earth Hemp Pre-Rolls are Strain Specific. We provide CBD content on each pack as well as Terpine Profile. Certificate of Analysis from Independant Labs are available on our website.
Our boxes are biodegradable, compostable, and recyclable; made of hemp fiber and post-consumer waste and printed using plant-based inks.
Benefits of Pre-rolls…and why we love half grams
A convenient option for fast and easy use

Higher bioavailability than other methods of consumption

Effects are almost instantaneous because CBD enters the bloodstream quickly through the lungs

Can be used as a substitute for cigarettes and is a healthier option than tobacco

Half Grams for discrete and individual use

Half Grams mean less waste  
Disclaimers and Warnings
2018 Farm Bill Compliant.  All products contain less than 0.3% THC
Although this product contains less than 0.3% THC, everyone responds and reacts differently to cannabanoids. Use with care and discretion.  Do not drive or operate heavy machinary or call/text ex-partners until you are fully confident in how this product interacts with your brain and body.  
Keep out of reach of pets and children.  Consult your health care provider prior to use, particularly if you have a health condition, on medication, are pregnant or nursing. 
These statements have not been evaluated by the Food and Drug administration. This product is not intended to diagnose, treat, cure or prevent any disease.
Specifications
Weight:

0.25 oz

Width:

6 in

Depth:

7 in

Height:

6 in